STATION17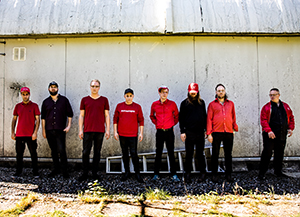 Ausblick (February 1st, 2019)
One of the greatest things about pop music is that rules can be summarily ignored. Ninetynine times out a hundred, however, there is a tendency to stick to those very same rules, failing to break the chains of market forces or stem the tide of expectations. Whatever. Station 17 are not amongst those who follow well-trodden paths. This band, all too often referred to as a "project", can look back on a richer history than most, amassed over thirty years. To mark this anniversary, a new album entitled "Ausblick" is set to appear alongside a retrospective. The new record is a twin of sorts to "Blick": a collection of exciting collaborations.
Created in a remote studio in the tranquil environs of Niebüll, northern Germany. From Kraut legends such as Günter Schickert and faUSt to the friendly countenances of electronically inclined musicians like Schneider TM and Ulrich Schnauss, all the players have one thing in common: they have seamlessly aligned themselves with the production and composition techniques of Station 17, embracing the spontaneity of the situation here and now rather than seeking to impose their own methodology on proceedings.
"The town is a blur before your eyes" (Die Stadt verschwimmt vor dem Gesicht) is one line on "The midday sun freezes" (Die Mittagssonne friert) and it is astounding to note how similar the images evoked by the music are to the images painted in the supremely intelligent lyrics, bordering on the wise.
Directness is at the heart of "Ausblick", a light-hearted obfuscation of distance which works equally well in doped up dubs and out-there krautish electro tracks. The inobtrusive sounds never feel forced. Everything flows, yet every song stands on its own – as an agent of experimentation and pop, of aimlessness and barely articulable precision. Only a band who know exactly what they are doing are capable of such feats.
Read the info sheet (PDF): English
Read the info sheet (PDF): German
Download the press kit (zip): press kit

Werkschau (February 1st, 2019)
Anyone who has followed the progress of Station 17 over the past three decades will know: the only constant in this band is change. Evolving, stretching musical parameters, testing limits – these are the guiding principles of the band founded in 1988 by a group of mentally handicapped residents – Wohngruppe 17 – in Hamburg.
Kai Boysen, an independent musician working with them as a curative teacher, started up the collective as a creative and social project, the first of its kind in the alternative music scene to bring together musicians with and without disabilities.
Eleven official albums (if we count two remix albums) have been released since then. Over the years, Station 17 have increasingly emancipated themselves from the basic idea of a socio-creative project and advanced to the status of an internationally acclaimed combo in the experimental indie rock sector, conjuring up their own mix of electronic, krautrock, disco, noise and pop. This long and emotional journey has seen the collective play more than 800 concerts all over Europe. Two extensive documentaries have presented their story on screen. The role call of renowned guests and collaborators includes HOLGER CZUKAY, FETTES BROT, GUDRUN GUT, ANDREAS DORAU, DJ KOZE and DIE TOTEN HOSEN, to name just a few.
The anniversary compilation "Werkschau" offers a wonderful introduction to the cosmos of these pioneers of inclusive music production.
Read the info sheet (PDF): English
Read the info sheet (PDF): German
Download the press kit (zip): press kit

MUSIC
BUY
PICS
Click for Hi-Res version
Photo Credit: Simon Hegenberg
Click for Hi-Res version
Photo Credit: Simon Hegenberg
Click for Hi-Res version
Photo Credit: Simon Hegenberg
Click for Hi-Res version
Photo Credit: Simon Hegenberg
Click for Hi-Res version
Photo Credit: Simon Hegenberg
Click for Hi-Res version
Click for Hi-Res version
Photo Credit: Sebastien Cuvelier
Click for Hi-Res version
Photo Credit: Thomas Liehr
Click for Hi-Res version
Photo Credit: Anton Corbijn
Click for Hi-Res version
Photo Credit: Thomas Liehr
Click for Hi-Res version
Photo Credit: Thomas Liehr
Click for Hi-Res version